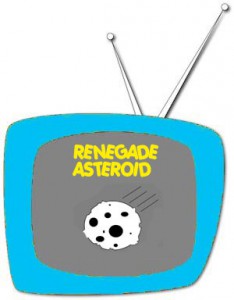 By Neal Patterson
The worst part was over. Through some skillful maneuvering, Spear and Nelson manually set the Transtar 12 on a path through the upper atmosphere that allowed them to breech the stratosphere without burning up. It was far from perfect, however, and the high temperature in the cockpit signaled that the heat shielding was less than optimal. Still, the three astronauts were still alive.
"Estimated landing site," Spear shouted to Nelson over the deafening noise of the vibrating ship.
"The equipment is fouled from the heat," Nelson barked back. "Nearest I can guess is somewhere in the Mojave Desert."
Spear clenched his jaw. "That'll have to do. I'm taking 'er in. You two get into the escape pod."
Nelson and O'Hanlon looked at each other as if the Colonel had gone around the bend. When Spear caught their glances, he said, "The pod has an automatic guidance system set for a safe return to Televast Aerospace. At least two of us will make it back to base."
"But Skipper," O'Hanlon spoke, "even if the guidance system is in working order, we have no fuel."
"I siphoned off just enough for the pod to carry two passengers," Spear replied. "Now get in that pod. That's an order."
Reluctantly, the two men worked their way through the rear hatch toward the escape pod. One minute later, Spear saw the sphere, no bigger than a VW Beetle, fly off into the horizon. He breathed a sigh of relief, knowing that his actions from here on out would only affect his own life. He tried to force Betty from his mind.
The rear fins of the Transtar 12 were designed to operate like airplane wings in the case of an emergency landing. Spear switched on the rudder controls and steered the cumbersome rocket like a glider. The sandy expanse of the desert was rushing up to greet him. Mercifully, the mountains were well away from his intended landing point. Leveling the metal monster as best he could, Spear held steady and waited for impact.
When Spear regained consciousness, he could not move. Every bone, every muscle, flared with the heat of pain whenever he attempted to release his safety belt and adjust his position. The ship's chronometer, if it could be believed, showed that he had been out for three and a half hours. He knew it could be at least 24 hours before a rescue team would reach him. That was provided the homing signal was working. Spear strained to tap a red button on his suit. His helmet visor closed and the suit filled with oxygen, laced with a potent painkilling gas.
Betty's face appeared over him, her look of concern brightened as Spear blinked into consciousness. "How long have I been out?" Spear croaked.
"Nearly two days," Betty replied. "Lie still darling, you have some broken bones. The doctor thinks you should be up and around in a few days though."
"After seeing your pretty face, I'm feeling better already."
Betty leaned down to kiss her fiancé when Lazlo Televast burst into the room. "Lance, thank God you are awake. I've just come back from the United Nations. The place is in chaos. Once news leaked out about the alien ship landing on the moon, the whole world has gone into a panic. Governments are collapsing. People are rioting and looting like it's the end of the world. So far, the US military has managed to maintain some sense of order, but who knows how long that will last. I'm afraid it's up to us now."
Spear tried to lift his head, but a punishing wave of pain caused him to slump back in his bed. "What do you mean? I can barely move. Besides, even if I was in perfect health, what could we possibly do against that Goliath of a warship?"
Televast smirked. "I have just the rock to take down that Goliath." The old man unfurled a roll of blueprints across Spear's chest. From what the astronaut could make out, it was a design for some form of military spaceship. A cross between a fighter jet and a space rocket.
Spear whistled. "This is incredible. Far beyond anything we currently have in the field."
"It's a secret prototype I've been working on for the military," Televast announced proudly. "Even they don't know about it. I was about to start flight trials before this whole mess hit the fan. Now it looks like the ol' girl will get some on-the-job training."
"If we could catch that ship unawares," Spear muttered, "this baby could do enough damage to at least paralyze it."
Televast picked up his blueprints with an air of indignation. "It'll do far more than that, or my name isn't Lazlo Televast. Nelson and O'Hanlon are already prepping the ship for launch. You have two days to get back on your feet or we're leaving without you."
So happy was Spear that he hardly noticed the pain when he grabbed Betty by the waist and gave her a squeeze. "I'll be ready if you have to haul me outta here with a forklift!"
It was Televast himself who named his new creation "David's Slingshot." He even painted the name along the nosecone of the craft in bold red letters, which was no small feat given the enormous size of his hybrid fighter/rocket vehicle. He was just placing the final flourish on the letter T when Betty called up to him from several stories below the scaffolding.
"We're preparing for our final systems check, Daddy," Betty said. "We need you in the cockpit."
"May I lend a hand?" a familiar voice echoed through the hangar.
Betty turned and saw her fiancé walking toward her with the aid of a cane. Still bandaged and bruised, Spear was nonetheless walking with the same determined gait he always possessed. She charged toward her man and wrapped her arms around him tightly. "Oh Lance, it's so wonderful to see you on your feet."
"I told you I wouldn't let you leave without me," he replied.
"Excellent, you're here," Televast called down from his perch. "Come, my boy, we're headed to the cockpit!"
Within minutes, the skeleton crew of Spear, Televast, Nelson, O'Hanlon, and Betty were gathered in the cramped control room running through the extensive check list. As the various systems were ticked off, Spear marveled at how well the craft had been assembled in such a short period of time. Ordinarily, it could take months to work out all the kinks of a new space craft. David's Slingshot appeared to be in perfect working order within a few days. Televast studied every light and switch like a man possessed, filled with a sense of mission on a level Spear had never witnessed before.
"Maneuvering rockets," Nelson barked.
"Check," O'Hanlon replied.
"Weapons array," Nelson continued.
Televast flicked a few switches. "Check."
"I think that's it," Nelson sighed. "All that's left is to light this candle."
"Right! We launch tomorrow at dawn!" Televast slapped his hands together and raced out of the cockpit.
"He's like a child with a new toy," Betty smiled at Spear. "Coming dear?"
"I'll be with you in a minute," Spear said.
Betty kissed him on the cheek and left, followed by O'Hanlon who muttered something about a pint of beer with his name on it. Nelson also started to rise when Spear put his hand on Nelson's arm.
"Can I speak frankly with you, Clark?"
"Of course. What's on your mind?"
"While I was laid up in the hospital, I had plenty of time to think. Has our sensors picked up any activity from the alien ship?"
Nelson shrugged. "No not that I know of."
"Doesn't that strike you as odd? It's been days with that ship just sitting there. If it could chase us across the solar system, why suddenly stop and do nothing?"
"Who knows how these aliens think?" Nelson answered a question with a question. "They might need time to implement their invasion plan."
"Or they may not mean us any harm?" Spear countered.
"You heard what they said when we were on the Transtar 12. I thought their intentions were quite clear."
"Maybe they've changed their minds. I'm just not sure that we should take offensive action when they've made no moves of their own."
"What's gotten into to you, Lance? Those aliens gave us a declaration of war, and they clearly have firepower far superior to our own. We have to strike first or we may not get a second chance."
Spear carefully measured his friend's words. He offered a weak smile, "I suppose you're right. Full steam ahead, Captain."