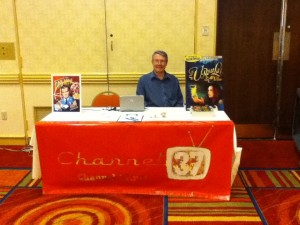 We're here! Hope everyone had safe travels, and we're looking forward to meeting our Twitter friends.
FYI, if you're driving the Baltimore beltway (I-695) to get here, be aware that there's a funeral procession that will be on the Beltway from 1-4 pm, so expect delays…
UPDATE 1: It's been a busy and fun first day here at Balticon. We met some old friends (Hi, Shirl and Dorian!) and made plenty of new ones, including some we hope to get to sit down with us for interviews. We had time for one interview today, with author, artist, and costume designer J-F Bibeau about his new book Felsic Tension , which was released today at Balticon:
We'll have more updates and interviews tomorrow! Unfortunately, Gary and Paul both had to miss the Alien Sex panel this evening, but I understand from the Twitter feed that it is quite the show, along with some "cloud sex" in the background…
See y'all tomorrow!